Aperti TUTTI I GIORNI:
11:00 – 19:00
Visite guidate (prenotazione consigliata)
Ouvert TOUS LES JOURS:
11:00 – 19:00
Visites guidées (Réservation conseillée)
Open EVERY DAY:
11:00 – 19:00
Guided tours (reservation recommended)
– Palazzo Castelluccio –
Via Cavour, 10
96017 Noto (Sr)
It +390931838881
—-
Orari e tariffe
Il Palazzo di Lorenzo del Castelluccio è un monumento storico privato situato a Noto, città classificata come Patrimonio Mondiale dell'Umanità dall'Unesco.
La  "Fondazione del Grand Tour" gestisce la conservazione, l'apertura al pubblico e l'animazione culturale del Palazzo.
Il Palazzo è aperto al pubblico, esclusivamente per visite guidate,
12 euros  /  -12 anni: gratis
Horaires et tarifs:
Le Palais Castelluccio est un monument historique privé situé à Noto, ville classée au Patrimoine Mondiale de l'Humanité à l'UNESCO.
La « Fondazione del Grand Tour » gère la conservation, l'ouverture au public et l'animation culturelle du palais.
Le palais est ouvert au public, uniquement pour des visites guidées,
Réservation conseillée.
12 euros  /  enfants -12 ans: gratuit
Opening times and prices
The Palace of Lorenzo del Castelluccio is a private historical monument located in Noto, a city classified as a World Heritage of Humanity site by Unesco.
The "Foundation del Grand Tour" takes care of the conservation, opening to the public, and the cultural events of the Palace.
The Palace is open to the public: (for guided tours only):
Reservation recommended.
12 euros / -12 years old: free.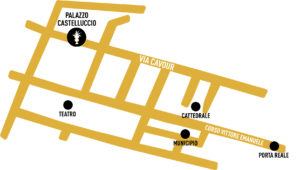 Via Cavour, 10  –  96017 NOTO (Sr) SICILIA