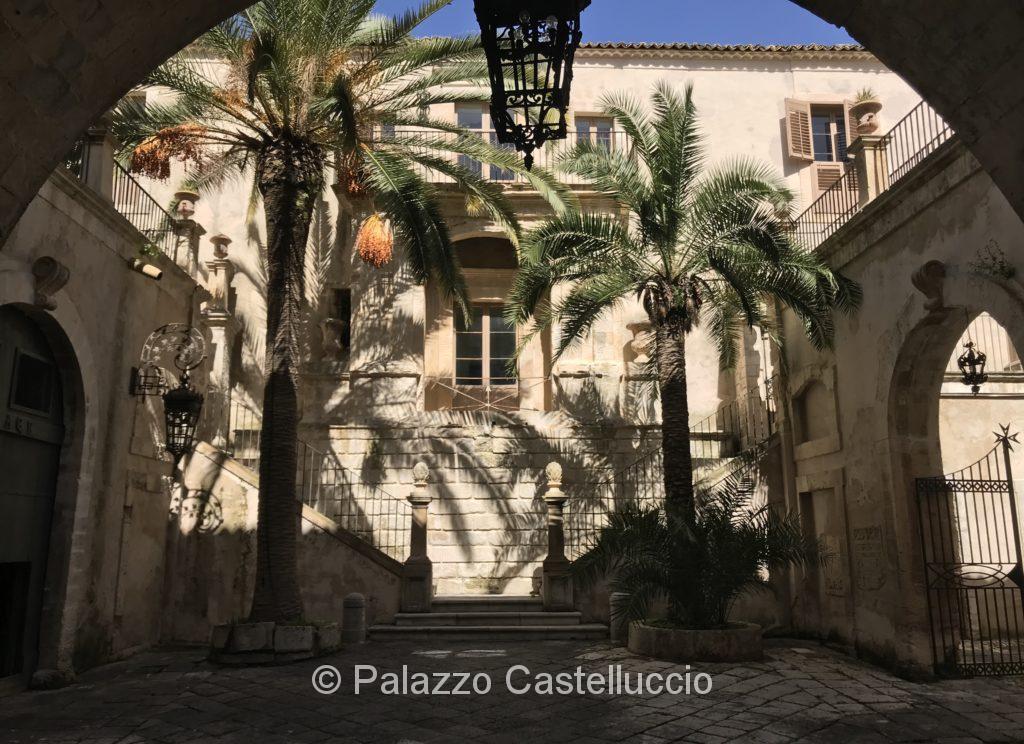 "Live" rather than visit.
A  Castelluccio Palace of Noto,
will be an experience for you
unique and unforgettable.

Discover an authentically restored and still inhabited 18th century Sicilian palace and its collection of furniture, objets d'art and period paintings. Guided tours.
The Castelluccio Palace, belonging to one of the oldest families in Noto, was built in 1782 by the Marquis di Lorenzo del Castelluccio after the earthquake of 1693 which partly destroyed the region. The façade of the Palace, on Via Cavour, does not have the same baroque style used for the reconstruction of the main buildings of the city, but instead reflects the neo-classical taste popular in the late 18th century, which can be found in the well-preserved frescoes on the ceilings and walls of the main first floor. The original Sicilian ceramic floors have all been protected.
Four years of work were needed to revive the Palace, respecting its fine finishing and its history. The frescoes were cleaned and restored, the fabrics replaced and the silver wallpaper remade identically. A collection of Italian and Sicilian furniture and paintings restored the atmosphere of an inhabited palace. The music room, chapel and ballroom are testimony the power and good taste of a large aristocratic Sicilian family.
After the death of the last Marquis of Castelluccio, the Order of Malta inherited the Palace and kept it for some years. When the current owner took possession in 2011, the Palace had been uninhabited for decades. The main first floor was in a terrible condition, and the doors, windows, paintings and electrical installations all had to be removed and replaced. Today, the colours have been restored to the grand staircase and its vases and extend a magnificent welcome to visitors…
From the 18th to the mid-20th century, a Sicilian family lived in the Palace, which was divided into various spaces for a substantial extended family, in addition to many domestic workers. The kitchens of the Palace, preserved in their original state without any restoration, like the stables, which they were "refreshed", are a testimony to the activities that took place at the Castelluccio Palace.